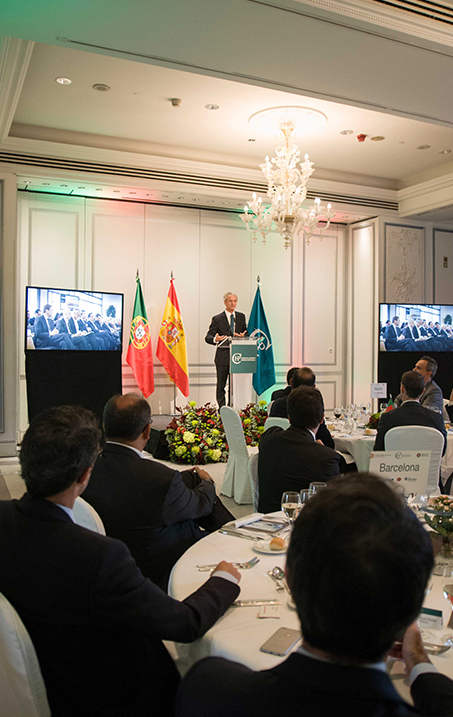 The Portuguese Diaspora Council was a guest honor of the The Chamber of Commerce Hispano Portuguese in a colloquium lunch in Madrid, Spain.
The Chamber of Commerce Hispano Portuguese (CHP) in collaboration with the Embassy of Portugal and Caixa Geral Bank, Capgemini and EDP, promoted a colloquium lunch with the Portuguese Diaspora in Spain, with the Chairman of the Portuguese Diaspora Council, Filipe de Botton, as the honor guest.
The Chamber of Commerce Hispano Portuguese (CHP)
António Calçada de Sá, Chairman of the The Chamber of Commerce Hispano Portuguese (CHP) and member of the Portuguese Diaspora Council, stated that one of his obligations has the chairman is to support institutions that want to strengthen the representation of Portugal in the world, namely Spain. "We are building bonds between Portugal and Spain for more than 45 years, when the Chamber was founded, with the unique goal of promoting and defending the bilateral economic, trade and industrial relations, as well as supporting all the Portuguese and Spanish people that compromised with the Iberian Peninsula. We consider as high priority to promote this meetings with associations as the Portuguese Diaspora Council to comply this aim. It is evident that Portugal has many professionals dispersed in the world and that share a common goal, that our country be more recognized in the whole world, and that this implies to gather the biggest number of associates that show that vocation to build more Portugal, more Spain and, finally, more Iberia".
And also stated: "Both countries have an increasingly common agenda, the Portuguese exportations to Spain increased in the past years more than 20% and, mutually, Spain exports to Portugal more than the whole South America together, what shows the active interaction in all levels. The more than 2.500 Iberian companies has been developing these relationships with great energy and merit".
The words of the Ambassador
The Portuguese Ambassador in Spain, Mr. Francisco Ribeiro de Menezes, noted: "Além do prazer de participar das acções da Câmara, nesta ocasião é uma honra falar das comunidades portuguesas no mundo e do papel promocional que desempenham na representação e no aprimoramento de Portugal, um país aberto ao exterior com uma história de vocação universal. Portugal tem sido um país que deu novos mundos ao mundo e sua bem sucedida vocação de abertura ao mundo exterior é bem reconhecida". With a base in the traditional definition that "uma instituição é uma ideia que persiste no tempo", Francisco Ribeiro de Menezes reminded that, after five years of the beggining of the Portuguese Diaspora Council "a associação mantém a sua vitalidade e estamos aqui para desenvolver com todos a sua potencialidade".
"Como Embaixador de Portugal na Espanha", added, "estou consciente de que a tarefa de internacionalização não pode depender unicamente dos meios estatais, e não deve ser. As relações entre pessoas, empresas e sociedades devem ser muito mais amplas. Os governos devem definir um quadro político legal, mas é a sociedade que tem um papel mais importante para desenvolver essas relações diariamente. No caso de Espanha, não teria sido possível encontrar um melhor interlocutor do que a Câmara de Comércio Hispano Portuguesa "pelo seu dinamismo, representatividade e liderança, sempre comprometida com a vocação íntima de ambos os países", stated the ambassador. "E não seria fácil encontrar uma comunidade portuguesa tão interessante como a de Espanha. Este país acolheu-nos com um claro desejo de alcançar um entendimento mútuo e de solidariedade, uma comunidade com um grande espírito empreendedor e com grande mobilidade de ideias, projectos e investimentos, uma comunidade focada no futuro".
The Role of the Diaspora Council
The Chairman, Filipe de Botton, stated: "O principal objectivo da nossa associação é de fortalecer as relações entre Portugal e a sua diaspora, portugueses e luso-descendentes, para que, por meio de seu mérito, talento e influência, possam contribuir para o fortalecimento da reputação de Portugal e, conseqüentemente, desenvolvimento e prosperidade de Portugal ". Hoje, os portugueses são vistos como pessoas de alta capacidade e que podem constituir um 'lobby' de excelência que represente a marca de Portugal no mundo". Filipe de Botton highlighted that the council was born "sob o princípio da complementaridade, trabalhando em conjunto com a rede diplomática e com o objectivo comum de melhorar a imagem de Portugal no mundo. Ao juntar-se a esta rede da diáspora portuguesa, acrescentou, permite afirmar Portugal como uma marca, e, através dos Conselheiros, influenciar positivamente os círculos onde interagimos, representando os interesses do país no exterior".
"Portugal é hoje um país seguro, com uma cultura totalmente aberta à diversidade, que nos permite actuar de forma diferente e responder em diferentes áreas, como a inovação tecnológica, a educação, o turismo ou desporto, com uma capacidade de diálogo institucional entre muitos outros, e onde Portugal e os portugueses são reconhecidos como um exemplo a seguir, destacados pela 'mass media' internacional. Portugal está a passar por um momento muito positivo mas não devemos deixar-nos cair numa euforia inapropriada. Os resultados de hoje exigem perseverança e uma perspectiva de médio prazo. O país ainda tem muitos desafios para resolver e o Conselho da Diáspora pretende contribuir para superá-los", he stated.
By The Portuguese Diaspora Council, October 2017