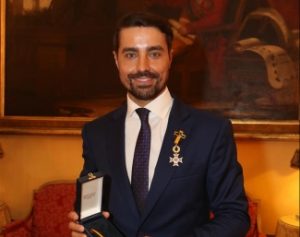 Ricardo Pereira was honored with Ordem de Mérito, in April, in Rio de Janeiro, an award attributed by the President of the Portuguese Republic
The actor and member of the Portuguese Diaspora Council, Ricardo Pereira, received in the beginning of April the award Ordem de Mérito, given by the Portuguese President, Marcelo Rebelo de Sousa.
This is one of the highest award that the Government of Portugal can offer to citizens as a way of distinguishing them for their worth in different areas. The distinction was delivered by the Ambassador of Portugal in Brazil, at Palácio São Clemente, in Rio de Janeiro.
"I was honored and moved with such a distinction. Obviously, I have a lot of pride in my work developed until now, but I also assume a bigger responsibility from now on in the promotion and diffusion of the Portuguese values and traditions and my role will be even more active in the cultural spread between the two countries and of Portugal in the world", stated the Portuguese Counselor.
Ricardo Pereira, that moved to Brazil 15 years ago, is also a member of Conselho de Curadores of the Luso-Brazilian Foundation and founder of Academia Portuguesa de Cinema. He divides his career between TV, theatre and cinema, becoming in 2004 the first non-brazilian protagonist in one of Rede Globo's soap opera "Como uma Onda". In 2015, he won the prize "2015 Talent" attributed by E! Entertainment and he was given a honorable mention from COTEC and Calouste Gulbenkian Foundation, Diáspora pelo Mundo.
Nowadays, 38 year old actor plays a role in the soap opera "Deus Salve o Rei", and participates in the weekly Globo show "Portugal Sem Cortes" and in the SIC show "E-Especial". In May he will play a role in Leonel Vieira's movie "Alguém Como Eu".
By Portuguese Diaspora Council and Jornal i, April 2018
Next Post
The best olive oil in the world is Portuguese