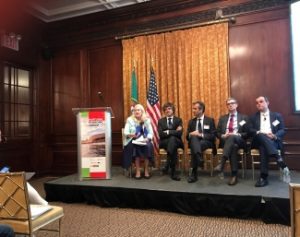 The members of the Portuguese Diaspora Council spoke at Portugal Economic Forum 2018, an event dedicated to Portugal, in New York.
João Taborda, Europe's Vice-President for Governmental Affairs of Embraer, was a speaker on the panel about "Innovation, Entrepreneurship&Portugal's Future Industries" and Ron de Pinho, Co-founder and Director of Eliminate Cancer Initiative (ECI), moderated the panel dedicated to "Health&Life Sciences Outlook: Adapting in an Era of Transformation".
The event, organized by AICEP and by the Portugal-US Chamber of Commerce, occurred on June 15, within the scope of the month on Portugal, at the Harvard Club of the city of New York, and was attended by the Portuguese prime-minister, António Costa.
By Conselho da Diáspora Portuguesa, June 2018
Next Post
Filipe de Botton: interview to Económico