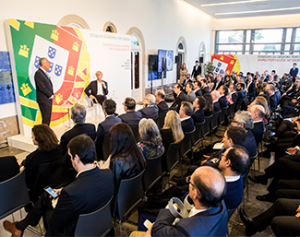 The Portuguese Diaspora Council will gather together for the 7th consecutive year, on December 20, at Palácio da Cidadela, in Cascais, with the theme "To think our Planet's economy".
As in previous years, members of the diaspora and the Portuguese Diaspora Counselors will gather with influential leaders of the business sector, academia, culture, decision-makers and non-governmental organizations, with the presence of the Honorary Presence of the Diaspora Council, His Excellency the President of the Portuguese Republic, and the Honorary Vice-President, His Excellency the Minister of Foreign Affairs* on the opening and closing sessions.
On the Meeting's agenda will be presented two great challenges that, on the perspective of the Portuguese Diaspora Council, will be positioned on the medium term to the development and strategic positioning of the country on an international context: "To reinvent the production chain" and "How to serve the responsible costumer".
The master of ceremony will be Cristina Esteves, RTP journalist.
On the day before, December 19, the 3rd edition of the 'Diaspora Talks' will be the stage of informal interviews with the Diaspora Counselors, directed to a young and entrepreneur public.
In previous years, the Annual Meeting of the Portuguese Diaspora Council launched debates such as the Portuguese Talent, Competitiveness and Investment in Portugal, Leadership and Diversity, Cibersecurity, Managing on the Digital Era, Cultural Diplomacy, Skills for the XXI century, the Development of the Audiovisual Industry in Portugal, Portugal as Nearshoring Go-To-Country, Disease Prevention and Health Promotion or Smart Mobility on a Green Economy.
Watch the VIDEO of the Annual Meeting 2018.
*to be confirmed
By Portuguese Diaspora Council, August 2019
Previous Post
Portugal receives international meeting of Parkinson's experts
Next Post
More than 300 researchers debated Parkinson's disease in Portugal