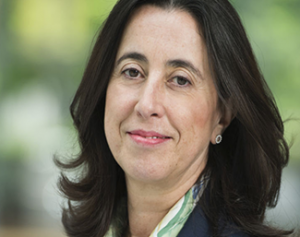 She is the first Portuguese Vice-President in 70 years of World Bank history, with responsibilities in the area of ​​Country Operations and Services Policies. The Portuguese Counselor Manuela Ferro recalls the key moments of her career.
Graduated in Agricultural Engineering but it was in Applied Economics that she became a specialist. With a 25-year career with the World Bank, Manuela Ferro is the vice president of Country Operations and Services Policy at that Washington-based international institution, where she is responsible for overseeing corporate finance and analytical services policies.
She graduated from the Technical University of Lisbon, where she also taught as an assistant professor and, during this period, worked on studies on the impact of our membership of the European Union. Determined and resilient, she decided to apply for the prestigious Fulbright Scholarship for a PhD in Applied Economics at Stanford University in California. Around here, they had told him not to have much hope, because it was rare to grant it to the Portuguese, but against the statistics and the prevailing negativity, he even got it. In Stanford she found an academic environment that fascinated her, an international student community where she made good friends she still maintains today, but also the smell of eucalyptus and pine that reminded her of Portugal. It was also there that she met her husband, a Belgian doctoral student who is now a university professor at one of the best American universities.
When she finished her doctorate in 1994, she applied for the World Bank, where she entered with technical duties, winning again the statistics to be one of the 35 chosen from more than 16 thousand candidates. Hard-working and demanding over the past 25 years she has built a solid career at the institution where she has directed the Poverty Reduction and Economic Management areas of the Middle East and North Africa, as well as the World Bank's Strategy and Operations for Latin America and the caribbean. Led the launch of the new collateral policies as well as the introduction of Disaster Development Policy Operations.
Living in Washington for several years, she confesses that a return to Europe is in her plans, but the challenges that the World Bank poses to her continue to love her and give her a sense of mission that keeps her fulfilled.
How does an agronomist fall in love with Applied Economics?
When I took the Agronomy course, I took the specialization in Economics and Rural Sociology, so the interest comes from far away, despite being more connected to microeconomics and rural economy. We were at the time of accession to the European Union. Before finishing the course I was already doing some research and analysis of the impact of EU membership on Portuguese agriculture and what one could benefit from. I had some background in economics, but with work I realized that they were not enough, so I thought to change direction and deepen my knowledge. At that time it was very difficult to do a masters or doctorate in economics from another course. Today is much easier and things have improved a lot. In the United States, doctorates have a curricular part; you have classes for a few years until you get to the thesis. So I applied for the Fulbright Scholarship, chose Stanford University, and at the end of the thesis, the Luso-American Foundation also helped.
During all the years at the World Bank, what was decisive for wanting to stay? Never thought of looking for a new challenge?
I think often. Two years ago I was almost out of retirement from the Bank and doing something else. But then I thought that to start doing something else you can't wait long. The advantage we have at the Bank is that when we change regions, it is as if we change jobs. But I'm in a phase where I didn't care about changing careers and doing something completely different. Even the curiosity I always had and some desire to return to Europe. I do not intend to spend my last days in the United States.
What keeps you falling in love with what you do after 24 years?
My work is very interesting and the mission at the World Bank is very relevant. That's why it accomplishes people. Not only do I like work, but I think it's an institution that, having not always done well, learns. And that has a lot to do with me.
It is also present at the Portuguese Diaspora Council. How do you exercise this participation and what has this experience brought you?
It is a very interesting experience because it starts from the idea of ​​using the Portuguese community in a way that makes us more aware that we are all ambassadors of the country. And they are making a huge effort to attract and identify more women to the Diaspora Council. This is a contribution I think I should make – sometimes I come to Portugal on purpose for that. I have the responsibility of the public procurement area of ​​the countries and I have been conducting seminars in Lisbon with Portuguese companies to let you know what opportunities are available to you. It is not giving any favoritism, but rather giving companies information to understand what they can do to apply for service contests and win. And this area has improved a lot. So there is interest from Portugal's point of view, but also an exchange of ideas between the Diaspora Council members, members of the Government and the business community who, to some extent, help Portugal to internationalize. We have always been a very open country and I think we should continue to do so. I always thought that Portuguese companies should diversify their internationalization, not only to Europe and Africa, but also to Latin America and Asia. This diversification makes us less dependent on certain economic developments and variations.
READ THE FULL INTERVIEW HERE.
By Executiva, September 2019
Next Post
Executive Digest rubric - Global zoom out