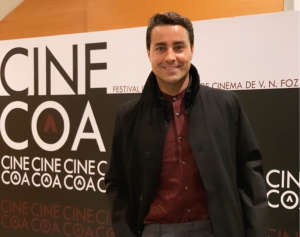 The Vila Nova de Foz Côa International Film Festival honored the actor and Diapora Counselor for his career and for the bridges established between Portugal and Brazil in television and cinema.
Ricardo Pereira succeeds to Paulo Branco, film producer, in the list of the festival honorees. In addition to cinema and television, the actor has a career that also extends to theater, having received several distinctions over the last few years such as the honorable mention of Cotec and the Calouste Gulbenkian Foundation, Diáspora pelo Mundo, and the Order of Merit by the President of the Portuguese Republic.
This event that places Foz Côa as a film capital acts as a show of films and short films from various eras, genres and different parts of the world. The 8th edition of the festival took place between 28 and 30 November 2019.
By Conselho da Diáspora Portuguesa, December 2019
Previous Post
Incentive for filming in Portugal has already attracted 40 productions
Next Post
Executive Digest rubric - To drive big brands