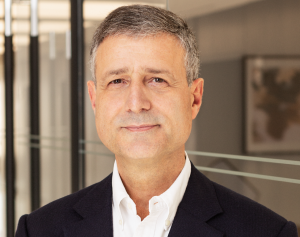 He was 34 when he was promoted to Managing Director of Morgan Stanley and later to responsible for the mergers and acquisitions department for Europe and Asia. 14 years ago, Paulo Cartucho Pereira founded Perella Weinberg.
It was an intensive period when he launched Perella with Joseph Perella (former vice-chairman of Morgan Stanley) and Peter Weinberg, (former CEO Goldman Sachs International). Starting with the choice of the founding partners, the survey of approximately 1.2 billion dollars with a sophisticated group of families and financial institutions, the structuring of the company to be launched simultaneously in New York and London and the start of work with clients and in specific transactions while recruiting the team.
Paulo Cartucho Pereira left Morgan Stanley in January 2006, after almost 19 years at the bank where he was the head of the Mergers and Acquisitions department for Europe and Asia, when the idea of ​​creating Perella Weinberg started to have substance. In mid-June was the official launch, with close to 30 employees of which about a third were partners. Today there are more than 500 employees, of which more than 50 partners, with offices in 10 cities and a volume of transactions in bigger than 1 million dollars and customers in more than 40 countries.
The founding partner of Perella is recognized in the financial sector, had he not been one of the strategic advisers to the largest merger operation in history: between Mannesmann and Vodafone with a value close to 200 billion euros. He is part of the restricted elite that advises mergers and acquisitions, privatizations, financing and capital market operations and has in its curriculum transactions with a total volume of more than 600 billion euros.
WHAT DOES PAULO SAYS…
He is a dean in M&A, but what people don't know is that he is a value creator by nature, whether it is for customers, sectors or markets. 
What made you interested in the financial world?
My interest in the financial sector came from the days of the Catholic University, where I complemented my degree in Economics with other courses such as financial mathematics. However, it was at INSEAD in Fontainebleau that I was really excited about the world of Mergers and Acquisitions, living with colleagues and friends who had experience working in banks like Morgan Stanley before taking the MBA, and the description they gave me of teamwork in highly complex transactions convinced me to go to London and start my career in the sector.
What do you remember of your first test as a leader?
I started leading teams in transactions early in my professional career, but my first test as a leader took place in the late 1990s when I was responsible for the team that covered the telecommunications and media sectors in Europe at Morgan Stanley. It was a period in which we multiplied the number of team collaborators by a factor of more than three times in the space of 18 months to cover unprecedented volumes of transactions, while establishing a true team spirit and mission, with centers of excellence in various sub- sectors. Our team was always at the top of the ratings on volume of transactions.
What to identify as having been the big surprises of your profession?
I wouldn't say they were truly surprises, but on the positive side, the confirmation that if you take care of your customers' long-term interests and goals, even when it means recommending against doing a certain transaction, the result is always a deeper relationship of trust with customers and an increased and sustainable market share in mergers and acquisitions. On the other hand, I also worked on transactions that were arguably creating value for customers, for the sector in which they were inserted, or even for the market as a whole, but that did not reach a good result because they were blocked by regulators or because market conditions changed substantially. We are experiencing a period of increasing uncertainty and volatility in the markets and in the decision-making processes of regulatory authorities, which will have an impact on the potential for value creation.
So far, which markets and sectors have been the most difficult to work with?
In my experience, I would not classify certain markets or sectors as being particularly and permanently difficult, although by definition it is easier to work in familiar markets – for example, when I advised a merger between two Japanese banks in the mid-2000s , I had to learn a lot not only about the specifics of Japanese legislation, but also about cultural and personal relationship issues, but they are challenges that attract me and that enrich the knowledge of the mergers and acquisitions market worldwide and develop the sense of adaptability to new situations. However, it is true that most markets and sectors of activity go through moments when it is difficult to promote mergers or acquisitions, as was the case in the telecommunications, media and technology sector, for example, when the technological bubble burst at the beginning of the decade. 2000, or in the financial sector immediately after the financial crisis of the second half of the same decade. Even in these difficult times for a particular sector or market, there may be unique investment opportunities for customers who have a long-term perspective and who are prepared to navigate short-term market constraints.
Throughout your journey, which projects makes you the most pride and why?
Without exception, transactions in which my clients were in a fragile negotiating position, or in which the market was going through a crisis or a very difficult period, and in which we were able to reach or even exceed beyond all expectations the objectives set. They are not necessarily the biggest transactions, and I am for example so proud of the result that we achieved for the Irish Republic in the first privatization of Telecom Eireann, with an initial proceeding below £ 400 million but a price addition many times above this amount, as I am proud of the merger between Mannesmann and Vodafone, which with a value close to 200 billion euros is the largest merger and acquisition operation ever. In addition to transactions, the creation and growth of Perella Weinberg is clearly a project of which I am very proud, and we still have a lot of work ahead of us.
And what are the most challenging moments?
Whenever a transaction that would clearly create value is not successful. Mergers and acquisitions projects can take two years or more from the generation of the first idea to the announcement and eventual closing of the transaction, and when they do not work, these are difficult times for customers but also for advisors, even after so many successful transactions over the years. On a personal level, maintaining the balance between the intensity of the projects and family life and socializing with friends – for example, this Christmas season was spent negotiating a transaction that was announced on the 2nd of January, and although I have a family and friends with a lot of patience, I know it's not something that I can or should neglect.
Are you a man of causes or purposes?
Companies with a social purpose, which broadly incorporate their impact, clearly in creating value for their shareholders, but also in their employees, customers, suppliers, and in the society in which they operate, will have better success in the long run. Over the years, I have supported causes, such as education at all levels, which I consider fundamental for the creation of a truly diverse society based on the merit of each person.
Who are your references?
I always loved to read, fiction books or not, and I wanted to have more time to finish reading all the books I open and start reading the first chapters. Currently, for example, among others, I am reading the Tale of the Heike (14th century Japanese epic), the Anarchy (by William Dalrymple, on the East India Company) and The Wall (by John Lanchester, on life in Great Britain) Britain after an ecological disaster). This variety of interests is also present in music, be it the classics of Jazz, Pink Floyd and other large groups of the 70s, or classical music and particularly Mozart and Bach. In the field of management, I often return to Andrew Grove (former Intel CEO, now deceased) teachings on adaptation in a market in constant and fast technological evolution, and I have too many cinematic references to highlight one or two.
What is your role as a Diaspora Counsellor?
My goal as a Diaspora Counsellor is to contribute to a good perception of the reputation and image of Portugal and all it has to offer, as well as attracting people, ideas and capital to promote the country's development.
By Executive Digest, January 2020
Previous Post
Spanish press praises the "prodigious" decade of Portugal
Next Post
Forbes lists the 10 stars of the diaspora