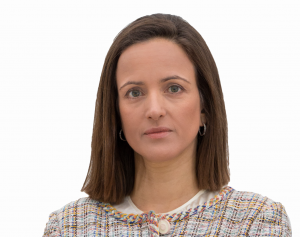 With a successful career abroad, the Portuguese Diaspora Counselor Joana Rocha Scaff, managing director and head of Europe Private Equity at Neuberger Berman, is today one of the 50 most influential people in private equity in Europe, of whom only four are women.
Joana Rocha Scaff is managing director and head of Europe Private Equity at Neuberger Berman, where she has been for over 14 years. He graduated in Business Management and Administration at Universidade Católica and began his career in investment banking, having covered the telecommunications, media and information services sectors. She started in Portugal at BESI, but nine months later she accepted an invitation to participate in an important merger and acquisition operation in Brazil and never returned home. She assumes that accepting the invitation was not an act of courage, but the result of her adventurous spirit and some innocence, but that it was a decisive step in her career. After almost three years in Brazil, she took an MBA in the United States, then joined Citigroup Global Markets and two years later moved to Lehman Brothers. It was there when the bank collapsed in 2008 and was part of the executive team that made a proposal to buy the bank's investment manager, managing to rescue it from the rubble and make it grow at a good pace in the last decade.
Since 2007 she has been working in private equity and is considered one of the most influential women in this area in Europe. Since taking the leadership of the European market at Neuberger Berman, the company's results have continued to increase in terms of the volume of funds managed and the number of clients. Due to her international experience of nearly two decades, Joana Rocha Scaff has been a Portuguese Diaspora Counselor since 2018.
Did you start working in the financial market as soon as you finished your degree?
I graduated from Universidade Católica, in Management and Business Administration, and started working in an investment bank. I have always been very interested in the financial area, and in a certain way also aptitude, as it was clearly the area of ​​the course in which I was best and most motivated me.
My first job was in Portugal, but in the first year I had the opportunity to work on a project in Brazil. I thought I would go for two months, but I ended up staying for about three years. After that experience I took an MBA at Columbia University, in the United States. When you do a master's degree in the United States, we have ample access to opportunities in the country and I decided to continue my investment banking career in New York, working at Citigroup – Salomon Smith Barney -, and then I moved on to Lehman Brothers, always in the field investment banking.
Lehman Brothers had a frankly good diversity and mobility policy and it was in 2007 that I moved to the Private Equity department, within the Investment Management area. A few years later I was invited to go to Europe and moved to England about eight years ago, after spending 10 years studying and working in New York. I am currently responsible for the Private Equity area in Europe for my company. We are a private company, currently owned by around 550 employees. We bought the company from Lehman Brothers in 2009 and since then we have been the ones who have managed it and made it grow.
The company makes investments mostly for institutional clients and we manage investments in various types of assets. In the Private Equity area, we manage US $ 80 billion, about 20% of which comes from European clients. I am responsible for Private Equity investments in Europe, focused on funds and co-investments, and for the European team, based in London.
READ THE FULL ARTICLE HERE.
By Executiva, February 2020
Previous Post
3rd edition EurAfrican Forum - In search for a common ground
Next Post
Isabel Pavão-Horvath launches book on 35 years of career