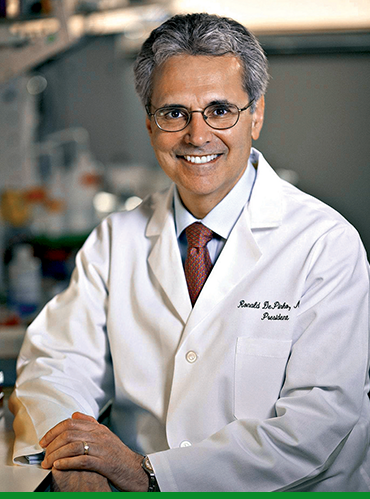 Company: Eliminate Cancer Initiative 
Country: United States
Field: Science
Ronald DePinho is the co-founder and director of Eliminate Cancer Initiative (ECI), along with Andrew Forrest, a member of the Foundation's project Minderoo which aims to support and encourage collaboration across sectors such as government, industry, academia, philanthropy, and patients with the goal of converting cancer into a non-lethal disease by the next generation.
Dr. DePinho's career included professorships at Albert Einstein College of Medicine and Harvard Medical School where he was the founding director of the Belfer Institute for Applied Cancer Science. He became the fourth full time president of the Texas University M.d. Anderson Cancer Center in Houston and now serves as Professor and Past President.  MD Anderson is the world's premier institution for the study, treatment and prevention of cancer-related illnesses and, under his presidency, MD Anderson launched its cancer moonshot program which inspired a national movement and expanded its global network to now reach one-third of the human population.
Dr. DePinho, is internationally recognized for his research work in cancer and aging and degenerative diseases. He has been recognized with many honors and awards including membership of the National Academy of Science and Medicine, Fellow of the American Academy of Arts and Sciences and the American Association for Cancer Research, the American Cancer Society Research Professorship, Honorary Degrees, amongst other recognitions.  He was awarded in 2015 with the degree of Commander of the order of Saint James of the sword by the then President of the Republic, Aníbal Cavaco Silva. He is also founder of several private and public biotechnology companies.
Ronald DePinho has been a member of the Portuguese Diaspora since 2013.