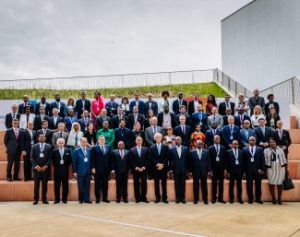 The 2nd Edition of EurAfrican Forum took place on July 4 and 5, 2019, with the theme "Partnership of Equals: Sharing Values, Sharing Prosperity", at the Grand Auditorium of NOVA School of Business and Economics, Cascais.
With this theme the aim was to focus on a new approach and paradigm for Europe and Africa's relations, faced as equals, to create the framework and forge impact transformation, changing the narrative for both continents for a shared prosperous and sustainable joint-future.
The Forum was attended by 450 participants, coming from 17 European countries (67% of the participants) and 24 African countries (32% of the participants), with 30% female participants, 56% coming from companies, 17% from institutions, 10% from governments, 12% from media groups and 5% Portuguese Diaspora Counselors.
The main debate topics were the following: 
Panel 1 – African entrepreneurs driving inclusive innovation and growth – sponsored by Omatapalo. The speakers were Didier Acouetey, President and Founder of AfricSearch group (Togo / France); Khadija Idrissi Janati, Founder of I-AFRIKA (Marocco); Linda Mabhena-Olagunju, Founder and Managing Director of DLO Energy Resources Group (South Africa); and Tunde Kehinde, Co-Founder of Lidya (Nigeria).  John Gapper, associate editor of the Financial Times (United Kingdom) was the panel moderator.
Panel 2 – From donor-recipient towards equal participation – sponsored by Mota-Engil. The speakers of this panel were Eugene Boadu, Head of Corporate Affairs of mPedigree (Ghana); Jasandra Nyker, CEO of BioTherm Energy (South Africa); Koen Doens, Directorate-General for International Cooperation and Development, European Commission (Belgium); and Michael Stopford, Managing Director of Oxford Analytica (United Kingdom). The moderator was Nozipho Mbanjwa, Founder and Lead Moderator at Akwande Communications (South Africa).
Panel 3 –  Changing the narrative: valuing talent and diversity from migrant flows. The speakers were: Enuma Okoro, Author, (Nigeria / USA); Tina Charisma, Founder of "Charisma Campaign" (Ghana /UK); and Vivian Onano, Founder/Director at Leading Light Initiative (Kenya). The moderator was Marie Lora-Mungai, Founder and CEO of Restless Global (France).
Panel 4 – Africa: the new frontier for impact investment and innovation. With Christelle Kupa, Founder and CEO of Uhusiano Capital (Congo/ Belgium); Erick Yong, CEO of GreenTec Capital Partners Africa (Germany); María Ángeles León López, Co-Founder of Open Value Foundation (Spain); Kim Kreilgaard, Head of Lisbon Office of the European Investment Bank (Luxembourg/Portugal); and Vèna Arielle Ahouansou, CEO of Kea Medicals (Benin). John Gapper, Associate editor of the Financial Times (United Kingdom) was also the moderator of this panel.
Panel 5 – Legacy to growth: rehabilitating the heritage, culture and tourism – sponsored by Turismo de Portugal. On this panel participated Ana Mendes Godinho, Tourism Secretary of State of Portugal (Portugal); and Mossadeck Bally, Founder and CEO of the Azalai Hotels Group (Mali). It was moderated by Jonathan Rosenthal, Africa Editor of The Economist (United Kingdom).
On July 4 afternoon, four parallel sessions took place outside the Grand Auditorium:
Session 1 – Rebuilding Mozambique, with Elísio Macamo, Professor of African Studies at the University of Basel (Mozambique/Switzerland); Fabio Scala, Founder of FurtherMarkets (United Kingdom); Francisco Pereira, Executive Director, Mozambique Post-Cyclones Reconstruction Office (Mozambique); Gregor Binkert, Board Member of Beluluane Industrial Park of Mozambique (Switzerland); and João Figueiredo, Chairman and CEO Moza Banco, Mozambique.
Session 2 – Security, Migration and Talent – This session will be designed in collaboration with the Institute of Security and Strategy Foundation of Poland, with Camilla Rocca, Head of Research at Mo Ibrahim Foundation (United Kingdom); Grzegorz Małecki, President of the Board of Institute of Security and Strategy Foundation (Poland); Jacek Raubo, Security Expert (Poland); and Stéphanie Asare, Secretary General of Welcoming Diasporas (Ghana /France).
Session 3 – Tools and strategies for woman and youth empowerment. With the participation of Lilian Ore, Founder and CEO of Global Connections for Women foundation (Nigeria/USA); and Oyin Solebo, COO & Founder – Movemeback (Nigeria /UK).
Session 4 – EU-AF Economic Integration and Digital Infrastructure for Africa. With Luís Cunha, Managing Partner of McKinsey Africa (Portugal/South Africa); Markus Lienkamp, Professor of Automotive Technology at Technical University of Munich (Germany); Precious Lunga, Co- Founder & CEO of Baobab Circle (Zimbabwe); and Samir Abdelkrim, Founder of EMERGING Valley (France).
The keynotes of this edition were António Vitorino,  Director General for the International Organization for Migrations – UN Migration Agency (IOM) for a keynote address about the migration dialogue between Europe and Africa, Elijah Amoo Addo, Founder and CEO of the Food for All Africa Programme, and Siyanda Mohutsiwa, Satirical Writer (Bostwana / USA). António Guterres, United Nations Secretary-General, participated with a special video message. The institutional speakers were Filipe Nyusi, President of the Republic of Mozambique, and Marcelo Rebelo de Sousa, President of the Portuguese Republic, who participated in a Conversation between Presidents, moderated by Cristina Esteves; Augusto Santos Silva, Minister of the Foreign Affairs of Portugal and Miguel Pinto Luz, Deputy Mayor of Cascais also delivered keynotes.
The master of ceremony was once again Thora Arnorsdottir, documentary producer (Iceland).
Other special moments were also part of this 2nd edition of the EurAfrican Forum, such as Welcome Drink for speakers and partners at Hotel Estoril Palácio, on July 3, where it also occurred a protocol signature with Lusa, news agency, media partner of the event. It was also signed a protocol with AICEP – Portugal Global on July 4.
An Advisory Board was constituted for this second edition, to support on the definition of strategic and innovative advice, knowledge, expertise and different perspectives about the topics of concern of the EurAfrican Forum platform, to encourage the development of the framework for sustainable growth and prosperity. It is composed by a group of highlight personalities from the Euro-African diaspora: Christian Kamayou, CEO MyAfricanStartUp, France; Kola Karim, Founder & CEO of Shoreline Group (Nigeria); Sophia Bekele, Founder & CEO of CBS International and DotConnectAfrica Group (Etiopia); Manuel Mota, CEO of Mota-Engil Africa (Portugal); Pauline Mujawamariya Koelbl, Innovation Catalyst, PROWAH Co-Founder and Angel Investor (Switzerland); and  Ziad Oueslati, Managing Director and Co-Founder of AfricInvest (Tunisia).
A selected group of Portuguese Diaspora Counselors – the Special Interest Group of the Portuguese Diaspora Council – was also constituted for the development of relevant topics and for the positioning and worldwide awareness of the EurAfrican Forum. It is constituted by: Carlos Pone, Former CEO AECOM Africa and Former CEO ABB SSA (Portugal/South Africa);  Christophe Fonseca, Portuguese-French film director and member of the Portuguese Diaspora Council  (Portugal/France); Gonçalo Terenas, Chamber of Commerce, Industry and Cultural Promotion (Portugal/ Senegal and West Africa); Miguel Azevedo, Head of Investment Banking for the Middle East and Africa, Citigroup (Portugal/UK); Pedro Pereira da Silva, General Manager of Pick n' Pay Retail (Portugal / South Africa); Sérgio Pimenta, Vice-President of International Finance Corporation for the Middle East and Africa (Portugal / USA).
The EurAfrican Forum platform is founded on the idea that the diaspora work as a connecting force between cities, regions and continents, between cultures, companies and people.
It is an action-oriented platform that aims to foster stronger collaboration between Europe and Africa, to better promote a shared green and inclusive growth for the two continents, uncover new business and social impact investment opportunities and challenges, creating synergies between both innovation models.
The launching of the 1st edition of the EurAfrican Forum took place on July 10, 2018, in Portugal, with the theme 'Crafting Coalitions for Change' and had 350 participants (35% Africans and 65% Europeans) African and European leaders from the entrepreneur sector, academy, culture, non-governmental organizations, public institutions, young entrepreneurs, media and social influencers. Four topics were under discussion: trust, resource share, the Fourth Revolution impacts and the role of the Diaspora on re-balancing the Euro-African regions. Watch the VIDEO of the 1st edition of the EurAfrican Forum.
The EurAfrican Forum has the High Patronage of the Presidency of the Portuguese Republic and the Portuguese Government, and is co-hosted by the Municipality of Cascais. The event is sponsored by Mota-Engil, Omatapalo, Turismo de Portugal, MDS Group, EDP and CitiGroup. The partners are AICEP – Portugal Global, the European Commission and the Institute of Security and Strategy Foundation of Poland. The media partners are APO Group, Africa.com, Aptantech, DTV Algérie, Forbes Portugal, Further Africa,  ITBusinessDirect and Lusa. TAP is the event's official carrier. 
More information: www.eurafricanforum.org.
Follow us on social media – Twitter, Instagram and Youtube.
By Portuguese Diaspora Council, July 2019
Next Post
EurAfrican Forum 2019: Euronews interview with the President of Mozambique