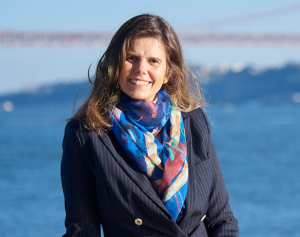 Currently working at Walmart in China, after eight years in Brazil, as a manager and entrepreneur, Rita de Sousa Coutinho advocates that an international career is not necessarily a risk. The Diaspora Counselor spoke to Executiva about her career.
The desire to make an international career was already present when Rita Sousa Coutinho graduated in Business Administration and Management at Católica. The aim of starting a multinational company in Portugal that would open the doors of the world to her was soon realized in her first job at Jerónimo Martins. The Group founded in Portugal in the eighteenth century, was taking its first steps towards Poland and Brazil, and it was precisely in this market that Rita de Sousa Coutinho made her international debut. It was a short experience, as it also turned out to be the second time she flew to Brazil with Jerónimo Martins in 2011. At this point the Group wanted to return to Latin America, but when the option was to enter the Colombian market, the executive decided, for family reasons, to leave the Group, but stay in Brazil. Rita Sousa Coutinho ensures that her international career has been made always having as a priority to reconcile family life with professional life.
The next experience was at Grupo Pão de Açúcar and, at the end of 2014, launched on its own. With two mutual funds, he becomes the majority shareholder and CEO of a bakery business, which started with 2 stores and, four years later, had 44 spaces. In late 2018, Rita de Sousa Coutinho leaves the comfort zone again and accepts a proposal from Walmart, the world's largest distribution company, to lead several strategic projects in China.
The international experience of a decade makes Rita Sousa Coutinho one of the members of the Portuguese Diaspora Council, a body composed of Portuguese and Portuguese descendants (who have lived abroad for more than three years), who seek to contribute to the improvement of image and credibility. Portugal abroad, making known their potential in the countries where they work.
When you finished your degree at Católica what were your professional ambitions?
When I finished my degree in Business Administration and Management at Católica I wanted to work in a multinational company where I could start in Portugal with the possibility of an international career. I considered strategic consulting, banking and consumer goods. I was attracted to the Jerónimo Martins Group proposal that was already present in several geographies. The distribution sector is very interesting and dynamic and I could see the impact of my actions right away. I joined as a trainee and after a period of six months internship, I assumed the role of Merchandising Manager of the frozen category in Pingo Doce.
How did the first international experience come about? And what did you considered at the time?
After two years at Pingo Doce, having spent more than one category in the Commercial Department, in 1999, the opportunity arose within the Jerónimo Martins Group to go to the operation of Sé supermarkets in Brazil. I considered it a great opportunity to start an international experience. I was able to reconcile my family life with my professional life and Brazil is a country with a huge dimension and several affinities with Portugal. On the other hand, this experience abroad would also be important for a future application for an MBA outside Portugal, which I dreamed of.
Was MBA at INSEAD a bet on an international career? What was the main impact you had on your career?
Jerónimo Martins was a good school, both in Portugal and in Brazil. The MBA at INSEAD has allowed me to develop personally and professionally in other areas and dimensions. The program provided a unique experience exchange and knowledge sharing. It was also there that I had the first contacts with the world of entrepreneurship and with the Asian continent, as I was part of the program in France and another in Singapore. We were 7 Portuguese, and I was the only woman. Right after the MBA, in late 2001, I returned to Portugal to Jerónimo Martins as Pingo Doce's Marketing Director, which I considered a great opportunity. The challenge of repositioning the brand was extraordinary teamwork. After two years, I accumulated with the Commercial Department and assumed the New Business Development Department in 2008. I think the results obtained over the years, the MBA at INSEAD and, being a curious person, always eager to learn, everything contributed to my career development. Believing that training is always necessary throughout life, in 2012 I took the Harvard Business School Advanced Management Program; a truly unique, transformational and continuous eight-week program that I especially enjoyed but was very hard to have to be away from family. The only three days apart, I went from Boston to Sao Paulo and returned to continue the course.
When you left Portugal in 2011 was it clear that it would not be as short a stay as it was before?
There is a big unpredictability in life. I was never very clear how long the stays would be. I always had as a priority to reconcile family life with professional life and had enjoyed the first international experience.
How did your career unfold in Brazil?
In 2011, the Jerónimo Martins Group was evaluating investment options in Latin America and I went to São Paulo on that team. In the second semester, given the decision to invest in Colombia, and my desire to stay with my family in Brazil, I left the company. In early 2012 I accepted the proposal of Grupo Pão de Açúcar, owned by French Casino Groupe, at the time the largest distributor in Latin America, as CEO of the Business Unit of proximity / convenience supermarkets in Brazil. The challenge was very interesting, the business grew from 60 to 265 stores, more than multiplying sales by 5 in just two years, we created new brands and formats with great success. It was one of my best career moments outside Portugal. I really enjoyed the culture of the Casino and Sugar Loaf, Brazil's economy grew a lot, as I had never seen in any European country and I felt very good working in the team of Brazilians and French. For a long time I was the only foreign woman, not Brazilian or French, on the Executive Committee.
What led you to start as an entrepreneur and how did you select the business areas?
In late 2014, the opportunity arose for us, together with two Brazilian Private Equity Funds, to acquire a small family-owned bakery business. The bakery market in Brazil is very large, traditional and fragmented, with over 60,000 independent bakeries and, therefore, attractive enough to start organizing in professional chains or networks, similar to what exists in other countries. We started the operation of "Benjamin, a Padaria" with 2 stores and a few kiosks and I as the largest shareholder and CEO of the business. In the early days I did not know whether to laugh or cry at the episodes I had experienced; for example, we had to count the money that came to me daily in black garbage-like bags, and then deposit it in the Bank, we saw the bakers who had been making the recipes for years and had it all in their minds, not using any meter to ensure uniformity of the final product. The informality in the business was very large and we had to put standards and controls throughout the company. At first there were only 2 computers. It was a huge challenge, a very rewarding job where I needed great patience, humility and listening.
How did the proposal to work in China come about and what led to its acceptance?
At the end of 2018 and after 8 years in Brazil, the last of which, making the investment in the Benjamin bakery chain compatible with Advisory and Consulting to some multinational companies in the area of ​​consumer goods and distribution, the time has come to embrace a new challenge. For family reasons too, China has emerged as a good opportunity. I received an invitation from Walmart, the largest distribution company in the world, to lead several strategic projects in the country, which I accepted with great pleasure and it has gone very well. And the family is really enjoying the experience. This experience in China has been amazing. I have had the opportunity to learn a lot about market dynamics, brand dynamics and, about the Chinese consumer, working with business digitization in different phases of the value chain and in various formats. I never watched such a fast run. On the other hand, this is the first time I have worked with an American company and I have been very identified with the values ​​and culture of the organization, so the adaptation was easy.
What is the professional experience that most marked you? Undertaking in Brazil, Benjamin being a pioneer in the professionalization of a huge and informal sector, such as bakeries in that geography and, having happened in 2015, at the time of the biggest recession of the Brazilian economy in recent years, was by far the most challenging hard I faced. A unique experience that marked me very positively for the future. Benjamin has become the largest bakery chain in Brazil.
What is the most important thing you learned in each of these cultures?
In Brazil, I lived in an environment of constant volatility and unpredictability, with opportunities and risks far greater than Portugal due to its size and framework, and I learned how in this culture human relations are more important than established processes and norms. The short-term focus is very evident. In China, I find great speed and competition and an economy with a well-defined long-term strategy. A very pragmatic and hardworking society with an ambition for permanent improvement and growth. Here, following processes and rules in the execution, better results are generated and faster.
READ THE FULL INTERVIEW HERE.
By Executiva, January 2020
Previous Post
Diaspora Counselors Among the 20 Most Powerful Portuguese
Next Post
Spanish press praises the "prodigious" decade of Portugal