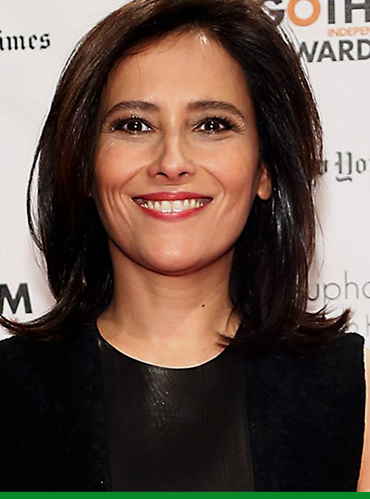 Company: Toronto International Film Festival (TIFF)
Country: Canada
Field: Culture

Joana Vicente is an independent film producer and businesswoman. A prominent figure in the New York film industry, Joana Vicente has produced more than forty films with her production partner and her husband Jason Kliot.
Vicente and Kliot received numerous awards and nominations including an Oscar nomination for "Enron the Smartest Guys in the Room", three major awards at the Sundance Festival, including the Audience Award and the Three Seasons Jury Grand Prix, held by Tony Bui. He has worked with filmmakers such as Steven Soderbergh, Brian de Palma, Hal Hartley, Nicole Holofcener, Jim Jarmusch, and Alex Gibney.
She graduated in Philosophy from Universidade Católica Portuguesa and began her career in the European Parliament as a press attaché and then as a radio news producer for the United Nations.
In 2009 she is named Executive Director of the Independent Filmmaker Project (IFP), the oldest and largest independent filmmaker organization, with more than 10,000 members worldwide and launched the Made in NY Media Center by IFP, an incubation center for independent producers in partnership with Mayor's Office for Media and Entertainment and the New York City Economic Development Corporation. In August 2018, she was appointed Executive Director of the Toronto International Film Festival (TIFF). She began this new position November of 2018.
In 2015 she is nominated for "The Gotham 60: Influential New Yorkers in Entertainement and Media", and in 2013 she is nominated for "Variety's Women's Impact List" and "Marie Claire's New Guard Power List".
She participated in the international jury of the Sundance Film Festival in 2013 and the Tribeca Film Festival in 2015. For the past three years she has been named one of the 100 Most Influential People in Brooklyn Culture by Brooklyn Magazine. In 2007 he received the prestigious "Made in NY Award" by Camera President Michael Bloomberg.
Joana Vicente is an adjunct professor at NYU Stern Business School and serves on various boards of directors: NYU Production Lab Advisory Board, Feirstein Graduate Film School Advisory Board and Jerusalem International Film Lab advisory Board.
He has been a member of the Portuguese Diaspora Council since 2014.