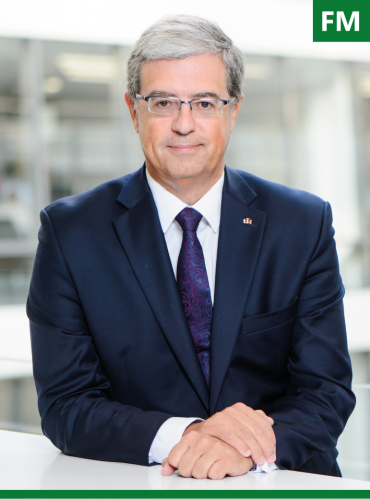 Company: Siemens
Country: Portugal
Field: Economy
Pedro Pires de Miranda is the Chief Executive Officer of Siemens Portugal and President of the Board of Directors of Siemens Angola. Responsible for the business development of Siemens Mozambique, Cape Verde and Sao Tome and Principe. Previously was Corporate Vice President of Siemens AG at the Munich Headquarters from 2008 to 2016.
Started his career at General Motors Corporation in 1981 as a Production Engineer, and specialized at the automotive components GM Plant in Dayton, Ohio, EUA.
Joined Siemens in 1983 holding diverse engineering and manufacturing management positions in Portugal and Germany. Nominated in 1998 as Engineering General Director, responsible for large infrastructure projects in Portugal and internationally in Doha, Qatar, USA and Dubai. In 2007 became member of the Executive Board of Siemens S.A.
Promoted in 2008 to Corporate Vice-President of Siemens AG, in Munich, Germany and named global Head of Siemens One , responsible for Siemens world regional key account management , coordination of the Market Development Boards and key customer corporate accounts.
Nominated in 2011 as member of the Sales Board of Siemens AG, in Munich and appointed in 2012 as Siemens Head of the Global Center of Competency for Cities, in London, overseeing the Regional Centres in Washington,DC and Shanghai , responsible for the business development in 70 cities , focusing on urban transportation infrastructures, buildings and energy sectors.
Graduated in Electrical Engineering and Industrial Engineering from Purdue University, West Lafayette, USA. He was a AFS scholarship holder in New York and attended the Executive Management programs of Harvard Business School , Cambridge, USA, of Nova Lisbon University, the Engineering Management of Krannert Business School, USA , the Industrial Engineering of REFA Institut, in Darmstadt, and the Siemens Global Leadership programs in Bangalore, India and Feldafing, Germany.
He is a member of IEEE- Institute of Electrical and Electronics Engineers, the General Council of ANIMEE, the General Council of PROFORUM, the Consultive Council of AICEP, and the Strategic Committee of COTEC.
Honoured in 2014 by the President of the Portuguese Republic with the title Grande-Oficial da Ordem de Mérito Empresarial Indústria and is a founding partner and member of the Board of Directors of the CDP – Portuguese Diaspora Council.
Awarded in 2020 the EEOAA , Engineering Education Outstanding Alumni Award by Purdue University at the Neil Armstrong Engineering Hall, West Lafayette, USA, and is the Alumni Ambassador of Purdue University in Portugal.