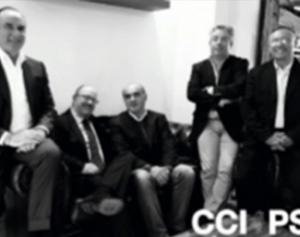 The Portuguese Diaspora counselor is part of the group that founded the Chamber of Commerce and Industry Portugal – Senegal and West Africa.
Gonçalo Terenas, president of Africa Cluster group, set up, together with a group of entrepreneurs, the Chamber of Commerce and Industry Portugal – Senegal and West Africa (CCIPS), on May 4th.
This project was constituted in the scope of the bilateral relations between Portugal – Senegal by a group of entrepreneurs and leading figures in the national and diaspora scene operating in Senegal. The international experience and multidisciplinary expertise of the professional corps in this new project and institutional instrument, now in service of the relations between both countries and the West Africa region, constitutes an important asset of support to companies and entrepreneurs of both sides, namely the internationalization of their activities and technical monitoring of both business networks.
Portugal and Senegal have in CCIPS a dynamic platform and an economic and corporative bridge between two markets, a continuous and articulated framework as far as Dakar was constituted as CCIPS' permanent delegation, a homologous organization the will allow the exploitation of positive synergies and simultaneously the implementation of cooperation, commercial, financial and cultural policies.
A biannual program will encourage the relationships between companies and bodies (public and private) in the expectation that the engagement of the various operators in different segments of commercial and civil society can bring closer, those to destinations. A CCIPS presents itself as a link Europa-Africa capable of joining the contemporary evolution where both perform a relevant and historic role in the two continents.
By Conselho da Diáspora Portuguesa, Maio de 2018
Previous Post
It's time to end the workplace taboo around mental health
Next Post
Digital technologies force us to be "condemned to collaborate"