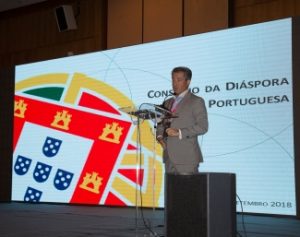 The Diaspora Counselor contributed with this years edition of Forum Bizfeira dedicated to the theme 'The SME's on the Global Economy', that took place in Santa Maria da Feira.
Gonçalo Terenas, President of the Chamber of Commerce, Industry and Cultural Promotion Portugal – Senegal and West Africa, was one of the speakers of Fórum Bizfeira 2018, on october 12, at  Europarque, Santa Maria da Feira. 
The intervention of the Counselor, who is also the editor of Diplomatic Magazine, included a presentation the Diplomatic Magazine USA, together with the Commercial Counselor of the Embassy od the United States in Portugal – Rafael Patino, and there was an approach about the importance of the Portuguese diaspora in the world.
The forum, dedicated to debating the opportunities of the global economy that requires companies a competitiveness reinforcement, reunited managers, political commentators, researchers, entrepreneurs and entities that support the entrepreneurial world.
The program included a set of actions, such as the conference with the theme 'Negotiating and Invest on the USA', biztalks, meetings e networking.
By Portuguese Diaspora Council, October 2018
Next Post
Azores to host NASA Space Apps Challenge