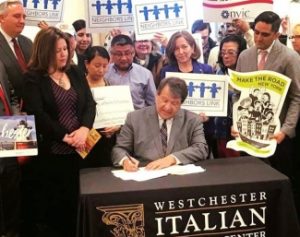 Isabelle Coelho-Marques, president of NYPALC e and Diaspora Counselor, joined the Westchester executive, at Generoso Pope Foundation, in Tuckahoe, to sign the New Executive Law on the Access to Language on the county. 
With the new New Executive Law on the Access to Language, the departments of the Westchester county that provide direct services to the public will traduce the vital records, including essential public records such as forms and instructions given or completed by beneficiaries , customers or participantes of the six most spoken languages on the Westchester county, according to the most recent US census –
Spanish, Italian, Chinese, French (including the Haiti native), Arab, Tagalog, Japanese, Albanese and Portuguese.
«This is an historic achievement for the Portuguese communities on the Westchester county and other example of the advocacy work developed by NYPALC», stated Isabelle Coelho-Marques.
NYPALC acknowledge George Latimer for the vision and leadership and to assure that the communities can be better served without linguistic borders, to the legislator David Tubiolo, for his "precious" support and also to the counselor Paulo Martins, president of the Regional Council of North America (CRAN), for his support on this historical moment for the Portuguese language in New York.
«About 30% of the residents of the Westchester County have English limitations, which creates access to the programs that promote security, health and the economical success for those who call Westchester home. This action will help to overcome these barriers and to allow our neighbors to continue to prosper. Almost every Westchester residents can reach its lineage until the time in which their ancestors were immigrants and this Executive Order aims to not close the door behind us", stated George Latimer.
«On the last 15 years, we've worked with partners to expand the access to languages in New York (City and State), Suffolk and Nassau Counties, and we are proud to add Westchester to this growing list. To demolish linguistic barriers is the first critical step to build confidence between the local governments and the communities that they serve» highlighted Steven Choi, executive director of the Immigration Alliance of New York.
By IILP – Instituto Internacional da Língua Portuguesa, March 2019
Previous Post
The Portuguese Diaspora Council supports Portugal Network's event