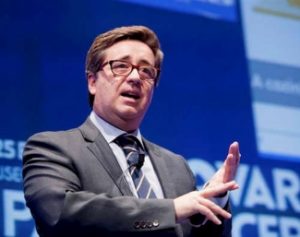 "Labour is one of the most clear mirrors of a society that we can build together". This is how the director-general of Fundação Francisco Manuel dos Santos and Counselor of the Portuguese Diaspora Council, David Lopes, justifies the meeting that debated the labour market.
.
«Labour make us stop and think» is the theme of Francisco Manuel dos Santos Foundation's (FFMS) conference that gathered together world experts in Lisbon. The challenge of the Foundation is to bring the themes closer to people, once certain issues aren't ignored any more since Troika's intervention.
Some of the personalities that are going to be present at Jardim Botânico Tropical in Lisbon are the co-founder of Wikipedia Jimmy Wales, the economists David Autor and Juan Dolado and even the biologist and physiologist Jared Diamond. In many panels, they are going to discuss the future of the labour market not only technically, but also sociologically.
David Lopes considers that on the last few years the Portuguese people have been waking for some issues. "This period of adjustment and international assistance that Portugal lived, with cost, pain and sacrifice to everyone, allowed that some of the themes that used to be almost ignored, neglected, eventually understood as not so important, become now part of the agenda", highlights.
However, there is a long way to run. "Bringing these issues to people in a understandable way, without economic academic terms, the 'sit up Portugal', making people to live their problems. We reached a level where even the party-policies debate is disqualified, with low level, people don't listen to each other, don't respect each other, this is everything we want to avoid when we organize a meeting such as this one", states David Lopes.
Themes for the future
With the 10th anniversary of FFMS getting closer, the director-general elects some of the themes that will be on the agenda for the next few months. Without revealing concrete plans for 2019, David Lopes highlights the study of the women role on the Portuguese society, the social security's sustainability, climate change, culture or even economy as themes to be on the spotlight.
When questioned about the country's challenges, David Lopes is clear: "we need some consensus on which areas we need to invest". The director-general of FFMS notes that education and the qualification of resources should be priorities. "If we don't do it, we will never win the productivity question. Achieving this together is also to have the ability of attracting more investment and to develop industries with more added value", justifies.
Finally, the big political reforms. "We haven's yet done the great structural reforms of the country", recalls David Lopes recognizing that maybe they won't be done by next year. However, he warns: "This is what makes a fairer society and what reduces inequalities".
By TSF, September 2018
Next Post
Zita Martins, a star on astrobiology