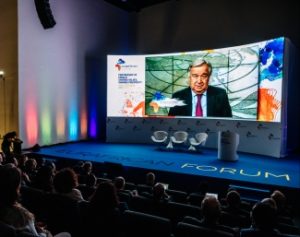 In his message to the EurAfrican Forum, the Secretary-General of the United Nations stressed the contribution of migration by saying that, when properly managed, they "almost always benefit both countries", both origin and destination.
"I am pleased that this forum is highlighting opportunities and building new partnerships, and I welcome your contribution to migrants' contributions," said António Guterres. Because "when carried out as a choice and properly managed, migrations almost always benefit both countries, both of origin and destination," he added in a video message conveyed at the closing session of the EurAfrican Forum, which ran from Thursday to today in Carcavelos, Cascais.
He thanked "the efforts" made in the forum, which discussed for two days the relations between Europe and Africa, "to help transform the shared future" of the two continents.
Guterres also highlighted the role Africa can play in the future in terms of investment and innovation, population growth and dynamic economies.
"With dynamic economies and the fastest growing youth population in the world," Africa is poised to "be a leader in investment and innovation," said the United Nations Secretary-General.
The United Nations, for its part, "continues to deepen partnerships with Africa," he said. "We are working together to make progress on the Sustainable Development Goals Agenda 2030 and the African agenda for 2063 to combat climate change and promote peace and development," he said.
The EurAfrican Forum, organized by the Portuguese Council of the Diaspora, ended today in Cascais with a balance made by the president of the event, the former president of the European Commission, José Manuel Durão Barroso.
By RTP/Lusa July 2019
Previous Post
Five African countries are inspired by the Portuguese Diaspora Council to create networks of influence
Next Post
Portugal is a leader in innovative SMEs in the European Union